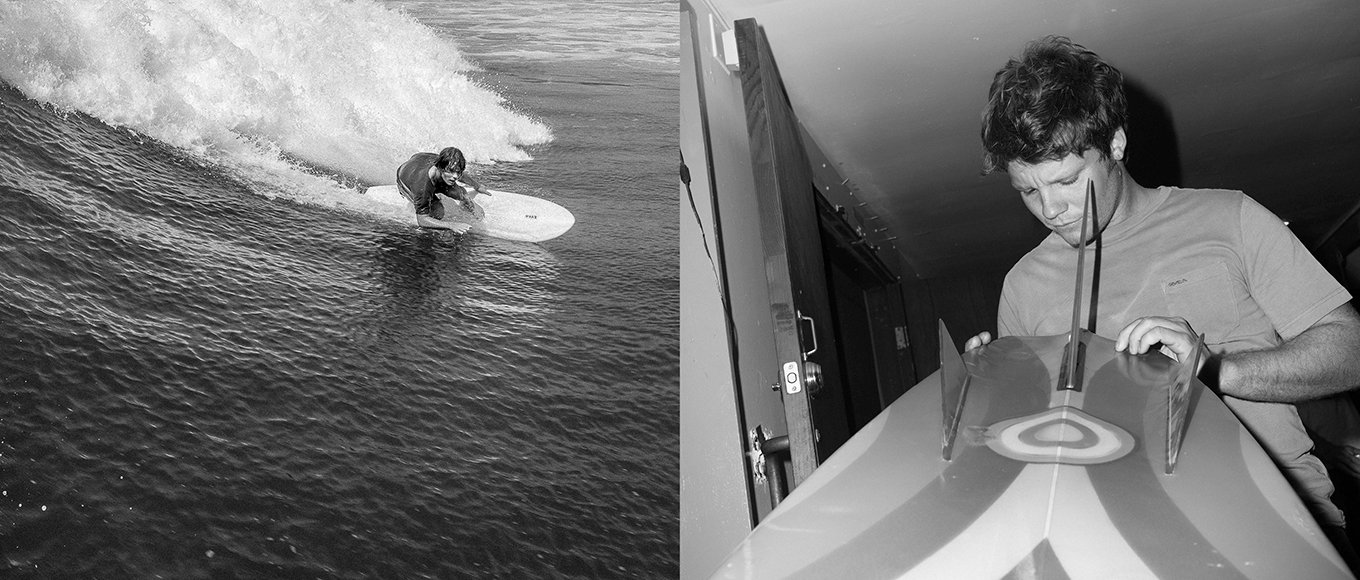 ORIGINALLY FROM AUSTRALIA BUT NOW SPENDING MAJORITY OF HIS DAYS HIDING OUT ON INDONESIA ATOLLS WITH HIS GIRLFRIEND NIAH, ELLIS IS ALWAYS ON SOME MISSION OR QUEST TO FIND EPIC WAVES. DRIVEN TO INSANITY BY WEATHER MAPS AND POTENTIAL SWELLS HE SPENDS HOURS TRAWLING THE COAST OF WHERE EVER HE MAY BE, PEPPED UP ON CHEAP COFFEE, NASI GORENG AND THE ALLURE OF THAT NEXT BAY, REEF PASS OR GOOGLE EARTH 'WHITE WASH' FORMATION. THE CHASE NEVER ENDS FOR SECLUSION AND UNCHARTED OCEAN. OTHER PARTS OF THE YEAR YOU MAY FIND HIM IN HIS ART STUDIO/SHAPING BAY 'PLANER IN HAND' PLOWING AWAY AT SOME FOAM, CREATING NEW BOARDS FOR HIMSELF AND FRIENDS. WORKING WITH HIS LONG TIME SHAPER FATHER BRUCE ERICSON , ELLIS LONGS TO MASTER THE TRADITIONAL ART OF HAND SHAPING A SURFBOARD, HE PREDOMINATELY WORKS ON DESIGNS FROM THE EARLY 70'S UNDER HIS OWN LABEL 'SUNFLOWER SURFBOARDS'. BEING A FIRM BELIEVER IN THE ARTISTIC SIDE OF SHAPING, HE AND GOOD FRIEND AL KNOST PAR TAKE IN EXHIBITING THERE SURFBOARD DESIGNS AND AESTHETICS IN A GALLERY TYPE SHOWS ACROSS THE US AND INTERNATIONALLY.
ELIS ERICSON | INSPIRED BY...
ELLIS ERICSON, INSPIRED BY... SURFBOARD DESIGN. HERE ELLIS LOOKS BACK ON HIS HISTORY WITH RVCA AND LAYS DOWN A FEW TURNS FOR GOOD MEASURE. VIDEO BY BLAINE SUQUE.
ELLIS ERICSON | RVCA BOARDROOM
RVCA ADVOCATE ELLIS ERICSON DISCUSSES SHAPING IN OUR SECOND INSTALLMENT OF THE RVCA BOARDROOM.
KNOST X ELLIS | BALI
1 DAY / 2 SESSIONS IN BALI WITH RVCA ADVOCATES ALEX KNOST AND ELLIS ERICSON. VIDEO BY JIMMY JAZZ JAMES, SONG: TV CALIFORNIA BY COSMONAUTS COURTESY OF BURGER RECORDS.
ELLIS ERICSON | 2 WEEKS IN BALI
A LOOK INTO ELLIS ERICSON'S LIFE SURFING AND SHAPING IN BALI, INDONESIA WITH A SPECIAL APPEARANCE BY JARED "BANG BANG BOOGIE" MELL. MUSIC BY "THE ALLAH-LAS", SONG ONE 'DON'T YOU FORGET IT', SONG TWO 'SANDY'. VIDEO BY JIMMY "JAZZ" JAMES.
ELLIS ERICSON | BONZER
2 SESSION'S WITH ELLIS ERICSON ON A 90'S CAMPBELL BROTHERS BONZER. VIDEO BY JIMMY JAMES