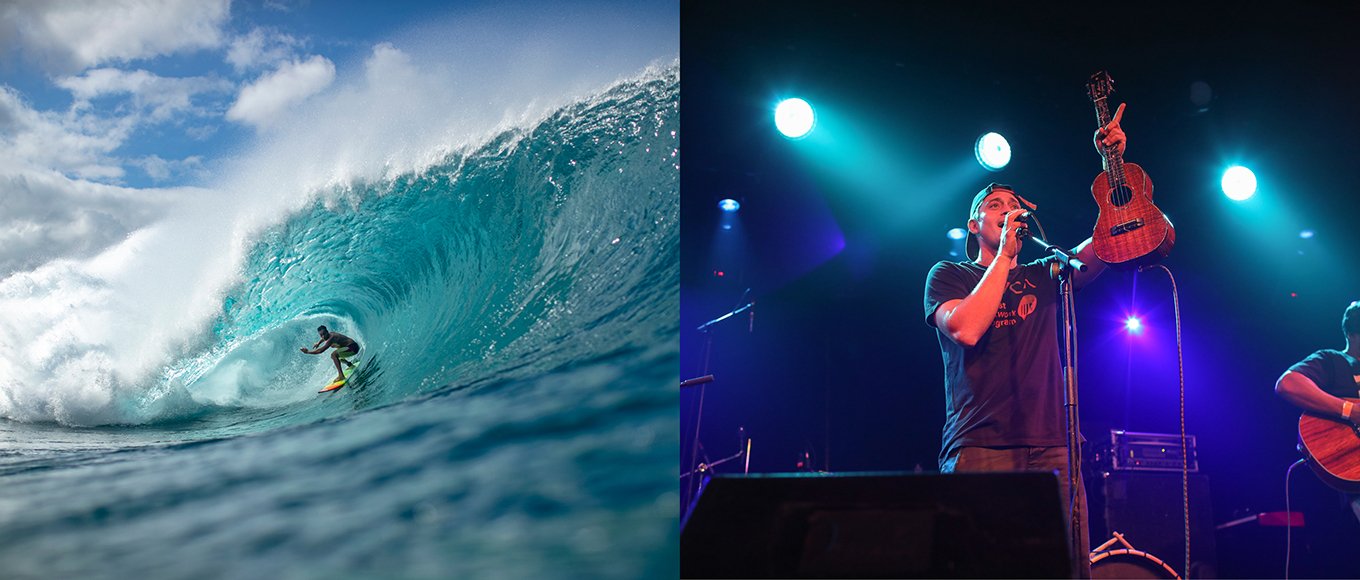 MAKUA ROTHMAN GREW UP ON THE NORTH SHORE OF OAHU, HAWAII AND STARTED SURFING AT THE AGE OF TWO. AT JUST THE AGE OF 18, HE CAUGHT THE WORLD'S BIGGEST WAVE (66') AND TOOK THE SURFING WORLD BY STORM BY WINNING THE BILLABONG XXL GLOBAL BIG WAVE AWARD. THIS SURFING CHAMPION IS NOW PURSUING ANOTHER PASSION IN MUSIC AS AN ACCOMPLISHED UKULELE PLAYER AND SINGER. HE HAS BEEN TAUGHT BY THE LIKES OF LEGENDARY MUSICIAN IZ KAMAKAWIWO'OLE , LEDWARD KAAPANA AND JOHN CRUZ. MAKUA IS VERY PASSIONATE ABOUT BEING THE AMBASSADOR OF ALOHA TO THE WORLD THROUGH HIS MUSIC – PLAYING TO CROWDS AROUND THE GLOBE. HIS MUSIC IS A GOOD-VIBE, HAWAIIAN INFUSED SOUND TO GET YOU SMILING AND ENJOYING YOUR DAY NO MATTER WHERE YOU ARE! ALOHA
RVCALOHA | THE EDDIE
RVCA ADVOCATE MAKUA ROTHMAN SHARES ON THE HONOR OF BEING PART OF THE EDDIE AIKAU BIG WAVE INVITATIONAL. THE EDDIE IS OFFICIALLY 'ON' SINCE IT LAST RAN IN 2009. WE'RE EXCITED TO SEE MAKUA, KALA ALEXANDER, BRUCE IRONS, AND DANNY FULLER REPRESENTING RVCA IN THE EDDIE THIS YEAR!
MAKUA ROTHMAN | BWT TRAINING
RVCA ADVOCATE MAKUA ROTHMAN TRAINS TO DEFEND HIS WORLD TITLE FOR THIS YEARS WSL BIG WAVE TOUR.

DIRECTED, EDITED AND CINEMATOGRAPHY BY - ETIENNE AURELIUS - INTERVIEW CAMERA OPERATOR AND AUDIO GRIP BY MICHAEL S. FERGUSON - SURFING CINEMATOGRAPHY BY - CHRIS BRYAN - MUSIC BY TAIMANE GARDNER - SONG RINGS OF SATURN & KING OF THE PLANETS - ALBUM WE ARE MADE OF STARS.
MAKUA ROTHMAN | 2015 BIG WAVE WORLD CHAMPION
CONGRATULATIONS TO RVCA ADVOCATE MAKUA ROTHMAN THE 2015 BIG WAVE WORLD CHAMPION!

DIRECTED, EDITED, & CINEMATOGRAPHY BY ETIENNE AURELIUS - ADDITIONAL CINEMATOGRAPHY BY ERIK IPPLE, FRIDAY MEDIA, PURE DIGITAL MAUI, & POOR BOYZ PRODUCTIONS, MUSIC BY - CRYPTEX, SONG - RESET, ALBUM - ISOLATED INCIDENTS