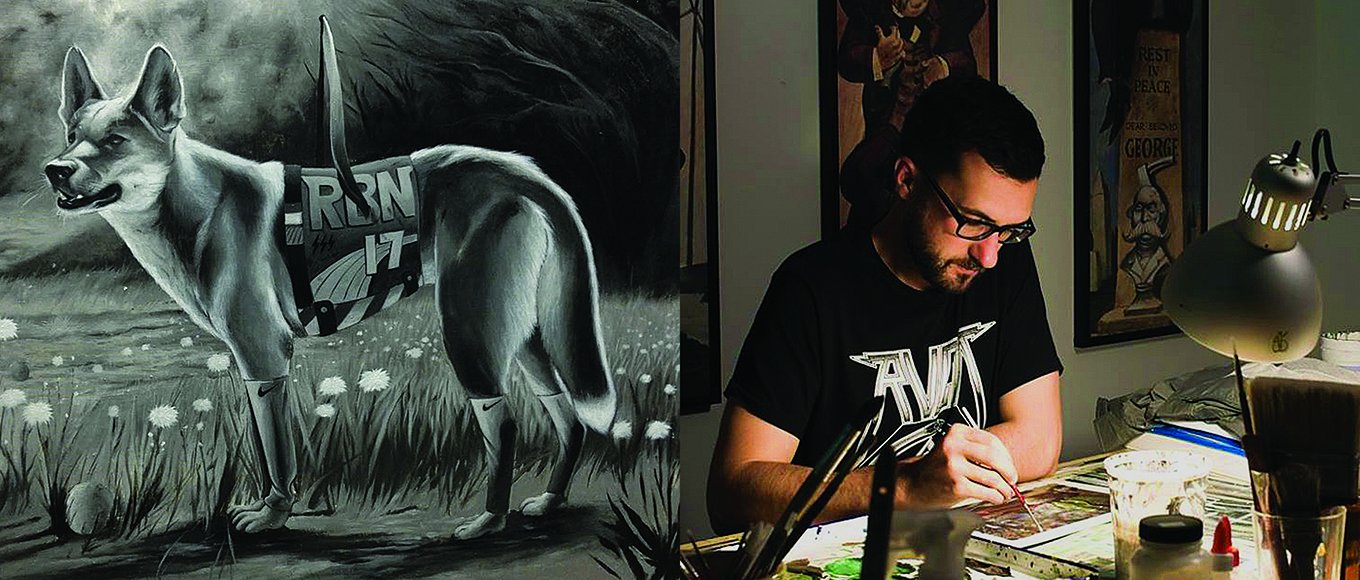 JEFF MCMILLAN WAS BORN IN SAN JOSE, CALIFORNIA. HE GRADUATED FROM THE ART CENTER COLLEGE OF DESIGN IN PASADENA IN 2004 WITH A BFA IN ILLUSTRATION FOCUSING ON FINE ART AND PRINT ILLUSTRATION. JEFF HAS BEEN A CONTRIBUTING ARTIST IN RVCA'S ANP PROGRAM SINCE 2007. IN 2012 HE FOUNDED PRIGUS SPORT INTERNATIONAL. JEFF TEACHES GRAPHIC NOVELS & COMIC BOOK ILLUSTRATION AT ART CENTER. JEFF LIVES IN LONG BEACH CA WITH HIS WONDERFUL WIFE LIV, DAUGHTER ELSA AND TWO DISOBEDIENT EX PAGEANT SIAMESE CATS.
THE DRACULAS | PAINT IT FORWARD
IN THE HEART OF LONG BEACH, CALIFORNIA A RESURGENCE IS HAPPENING. A CULTURAL VALUE SHIFT TOWARDS THE IMPORTANCE OF URBAN ART AND IT'S POWER TO BREAK DOWN BARRIERS, AND BUILD UP COMMUNITIES. "PAINT IT FORWARD," DIRECTED BY SCOTT NICHOLS, IS A FILM PORTRAIT OF THE SOUTHERN CALIFORNIA PORT CITY AND IT'S RISING REPRESENTATIVES WHOM ARE RETHINKING DESIGN AND HERITAGE FROM THE GROUND UP. AIMING TO DESIGN NOT JUST FOR BUT ALSO IN AND WITH THE COMMUNITY.
THE DRACULAS | POW!WOW! LONG BEACH 2016
THE DRACULAS, A SOUTHERN CALIFORNIA-BASED DUO COMPRISED OF ARTISTS JEFF MCMILLAN AND GARY MUSGRAVE; BRING BACK THE DANGEROUS, HAUNTED, AND FUN TO THE 2016 POW! WOW! EVENT IN LONG BEACH, CALIFORNIA. KEEPING TRUE TO THE ICONIC ELEMENTS OF THE PAST, THE DRACULAS, POP THE LID AND PAINT A WHOLE NEW MURAL OPEN FOR INTERPRETATION. STOP BY AND CREATE YOUR OWN STORY LOCATED AT THE WESTIN HOTEL ON 333 OCEAN AVE. LONG BEACH, CALIFORNIA.

DIRECTOR / CINEMATOGRAPHER / EDITOR: SCOTT NICHOLS.
JEFF MCMILLAN | PRIGUS SPORT
ANP ARTIST JEFF MCMILLAN SHOWS HIS PRIGUS SPORT PADDLES & MASCOT SERIES AT AS ISSUED IN COSTA MESA FOLLOWED BY THE OFFICIAL OPENING OF PRIGUS SPORT AT OUR RVCA SF LOCATION. VIDEO BY BRANDON JENSEN. SONG THE PILE BY EWW TABOO.