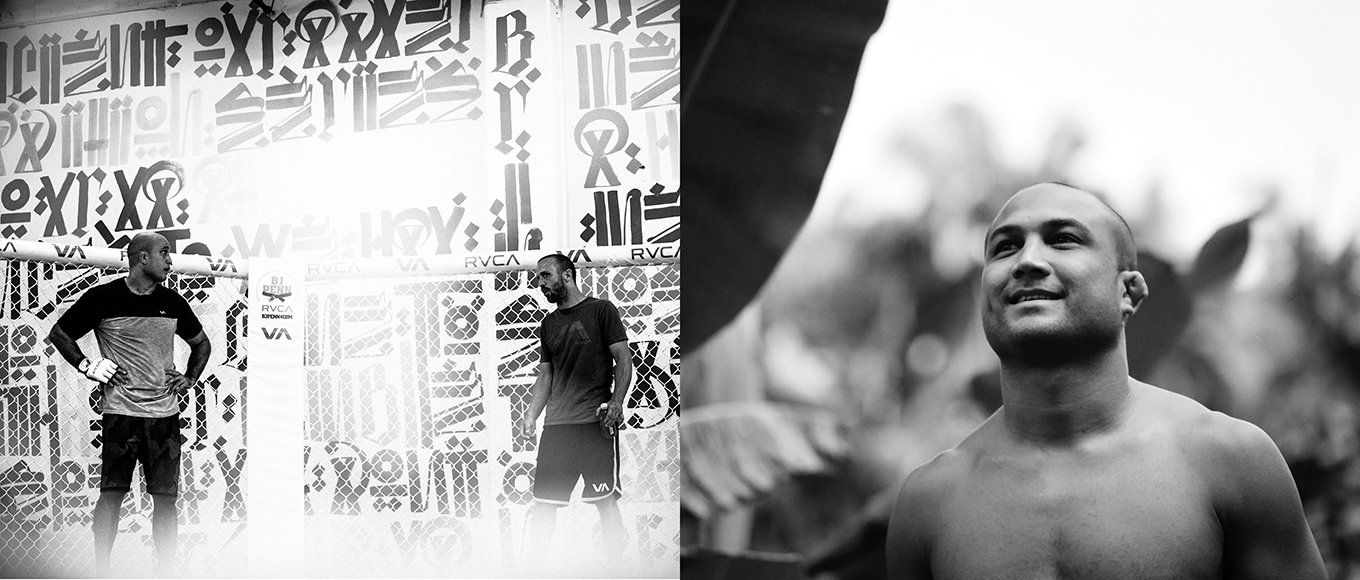 Nicknamed "The Prodigy", BJ Penn was introduced to Brazilian Jiu-Jitsu in Hilo, Hawaii at the tender age of 17 by neighbor Tom Callos. It was through Callos that BJ met Ralph Gracie in 1997 and decided to relocate to Mountain View, California to further his jiu-jitsu training. From that time on, BJ launched his storied career through the ranks of Brazilian Jiu-Jitsu and the UFC.
BJ PENN | INSPIRED BY...
"EVERYBODY HAS TALENT. YOU GOTTA DO SOMETHING WITH IT. YOU GOTTA GO MAKE SOMETHING OUT OF IT." -- BJ PENN, INSPIRED BY THE INFINITE POSSIBILITIES OF MARTIAL ARTS. HEAR FROM LONGTIME RVCA FAMILY MEMBER BJ PENN IN THIS INSTALLMENT OF OUR INSPIRED BY SERIES AND CHECK OUT BJ'S NEW TEE COLLECTION FOR THIS SEASON. VIDEO BY CHANGE FOR BALANCE.
BJ PENN | ROOTS OF FIGHT
TO ACCOMPANY THE NEW BJ PENN + ROOTS OF FIGHT CAPSULE COLLECTION, ROOTS OF FIGHT HAS RELEASED A MINI-DOCUMENTARY THAT EXPLORES THE CORE CONCEPTS OF THE ART OF JIU-JITSU THROUGH A VISUAL RE-TELLING OF HOW BJ PENN USED HIS NATURAL TALENT AND APTITUDE TO BECOME THE FIRST AMERICAN (IN FACT, THE FIRST NON-BRAZILIAN) TO WIN A GOLD MEDAL IN THE BLACK BELT DIVISION OF THE WORLD JIU-JITSU CHAMPIONSHIP. THE MINI-DOCUMENTARY INCLUDES NEVER BEFORE SEEN FOOTAGE FROM PENN'S CHAMPIONSHIP RUN THROUGH THE MUNDIALS IN 2000 AND TESTIMONY FROM SOME OF JIU-JISTU AND MMA'S TOP STARS INCLUDING UFC HALL OF FAMER ROYCE GRACIE, CURRENT UFC WOMEN'S BANTAMWEIGHT CHAMPION RONDA ROUSEY, LEGENDARY MARTIAL ARTIST BAS RUTTEN, FOUR-TIME JIU-JITSU WORLD CHAMPION RAFA MENDES, AND OTHERS INCLUDING "THE PRODIGY" HIMSELF.