How To Choose a Sports Bra – A Complete Guide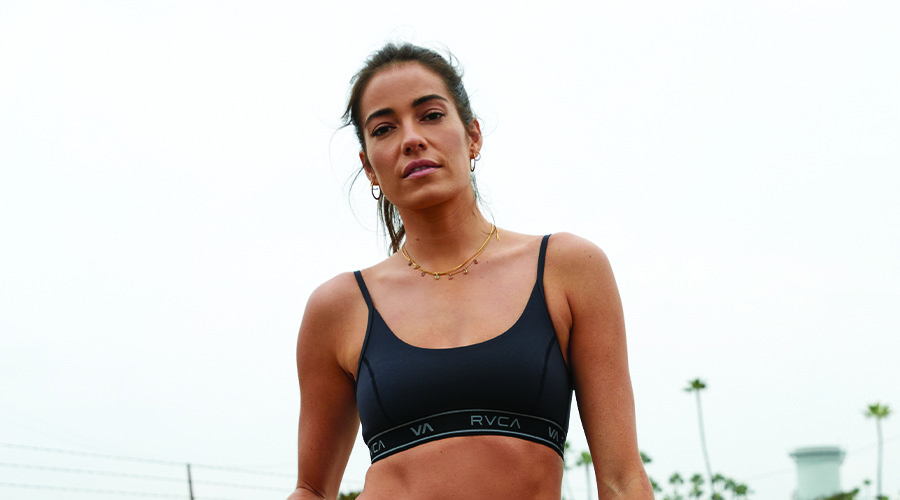 How To Choose a Sports Bra – A Complete Guide
Finding the right sports bra allows you to focus 100% on your training. From the gym to the streets, this guide shares all you need to know about activity levels, coverage and styles, so you can push harder and run faster in complete comfort.
Looking for a workout outfit? Shop our favorite workout clothes.
The Sports Bra Size Chart Explained:
The first step in choosing a sports bra is knowing your size. This prevents you from getting a bra that's too loose, or worse, too tight. Sports bras are measured by both band size and cup size.
1. How To Measure Band Size
Band size measures your underbust or the circumference of your rib cage, just below your bust. This measurement is important as it allows your rib cage to expand comfortably while still providing support.
To find your band size you need to measure your underbust — where your underband sits — with a sewing tape. Lift your arms above your head and make sure the measure sits snugly and stays even around your rib cage and along your back.
Tip: If you need to do this unassisted, measure yourself in front of a mirror and keep the measuring tape as straight as you can, parallel to the floor.
Round this number up to the nearest inch and add one. This corresponds to the band number in the size chart.
Example: Band measurement = 32.5", round up to 33, + 1 = 34
2. How To Measure Cup Size
Wearing your most comfortable, unpadded bra, wrap a sewing tape around your body across the fullest part of your bust and along the middle of your back. Be sure to keep the tape at an even level across your back for the most accurate reading.
Round this measurement up to the nearest inch.
Next, subtract your band size (step 1) from the measurement you just took (step 2), this will give you your cup size. The cup size translates to the letter you see in bra sizes and size charts. If you're between two sizes, round up.
(See below for our chart on sports cup sizing)
| | |
| --- | --- |
| Difference | Cup Size |
| 1 inch | AA |
| 1 inch | A |
| 2 inch | B |
| 3 inch | C |
| 4 inch | D |
| 5 inch | E |
| 6 inch | F |
| | | | | | |
| --- | --- | --- | --- | --- | --- |
| SIZE - TOP | XS | S | M | L | XL |
| US | 0 | 1-3 | 5-7 | 9 | 11 |
| BUST | 33 - 33½ | 34½ - 35 | 36 - 36½ | 38 - 38½ | 40 - 40½ |
| CUP | A-B | A-C | A-C | A-D | A-D |
How To Prevent Sports Bra Chafing
A common cause of chafing is wearing a bra that's too tight. This creates friction against your body which irritates the skin over long periods. When choosing your bra, be sure to pick one that fits snugly but isn't too tight. The width of two fingers should be able to fit between your bra strap and your body to allow room for breathing.
Bras with uncomfortable clasps, straps or seams can irritate skin. Avoid any bra that requires you to reposition them due to discomfort.
Materials that trap sweat against your body — like cotton — can also lead to irritation. High tech moisture wicking fabrics like nylon or polyester are ideal as they draw moisture away from the surface of the skin, keeping you dry and comfortable.
How Supportive Should a Sports Bra Be?
You need the right support level for your activity. This keeps your bust as stable as possible and limits injury and pain from excessive movement.
Support needs vary according to cup size.
Cup sizes AA-B require low to medium support bras for low-high levels of activity.
C cups need support to match the activity level, so medium support for medium intensity exercise etc.
Cup sizes D and up require high-support bras across all ranges of activity.
Low Support
Activities: Low support bras are great for activities with minimal impact and movement. This includes light cardio like walking, yoga or pilates.
Styles: Thin straps and minimal coverage, often compression bras in a pullover style.
Medium Support
Activities: Medium support bras support more movement and are suited to biking, hiking and skiing.
Styles: Wider straps than a low support bras, in compression or encapsulation constructions in pullover, front zip or back clasp styles.
High Support
Activities: High support sports bras are necessary for any high intensity or high impact activity — bouncing or jumping — as you need extra support built in. This includes: crossfit, boxing, circuits or running.
Styles: Encapsulation or hybrid constructions with built-in cups, maximum coverage and wide adjustable straps for the highest level of support.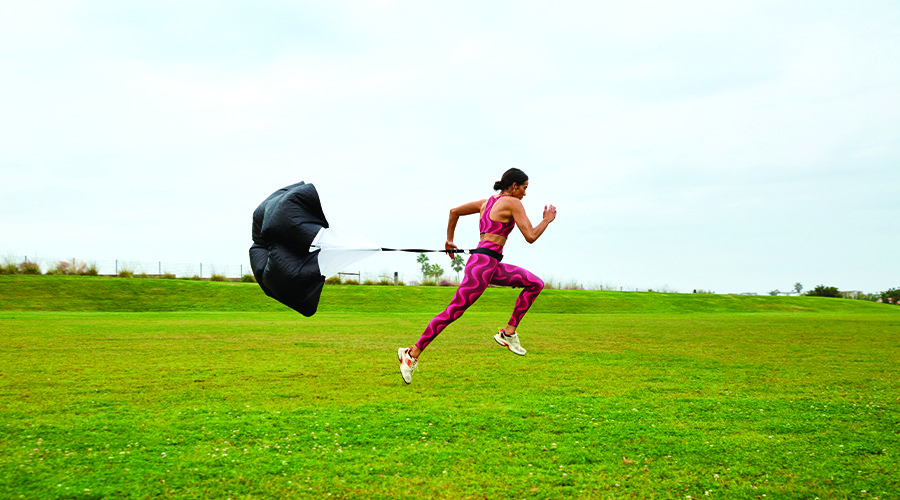 Different Types of Sports Bras
The first step in choosing a sports bra is deciding which type is best for you. There are two main types of construction: compression and encapsulation.
Compression
Compression sports bras use pressure on all sides to constrain and minimize movement for extra support. They are pullover designs that offer large coverage, like the traditional racerback style, without individual cups built in.
Suitable for cup sizes AA-B for high impact sports or all sizes for lower impact activities.
Encapsulation
Designed with built-in cups that support each breast individually. Encapsulation sports bras are similar in design to a standard bra and don't compress the chest. They feature clasps in the back or zippers in front.
Suitable for all sizes, especially cup sizes C and up, thanks to the extra support they offer.
Hybrid Sports Bras
Some sports bras combine compression and encapsulation features.
Ideal for high impact sports including cup sizes D and up across all activity levels.
Different Strap Types
Sports bras come in three strap types, each with their own purpose. Choose a strap that suits the intensity level of your workout.
Crisscross
Crisscrosses in the back. These straps are often adjustable to dial in the fit. They're a go-to for low to medium intensity exercise with the crisscross providing additional support.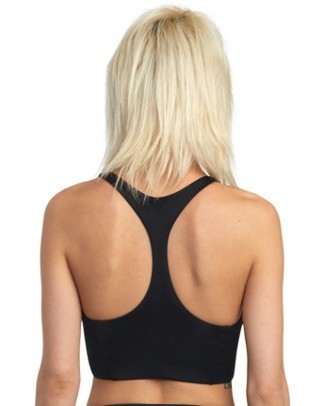 Racerback
The most recognizable sports bra shape. The racerback features straps that meet between your shoulder blades to form a Y. Ideal for low to high intensity workouts this style offers the most chest coverage and although straps aren't adjustable, they stay in place easily. If you have a larger chest, you'll find racerbacks most supportive if they have built-in cups.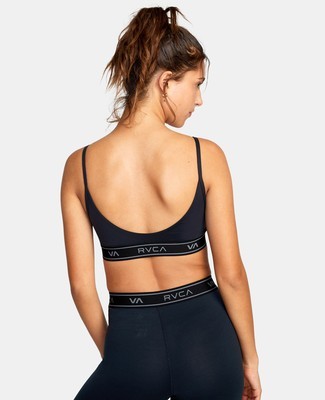 Tank Top
The tank top has vertical and adjustable shoulder straps that are similar in style to your standard bra. The tank is usually an encapsulation design that suits low to medium intensity exercise (depending on strap width and coverage).
Clasp Types
Clasp choice depends on personal preference. Sports bras are categorized by three closure types: pullover, back clasp and front zip.
Pullover
Pullover sports bras are put on over your head. They're usually a compression construction with a racerback and elasticized lining in the underband. These take more effort to pull on and off.
Back Clasps
Sports bras with back clasps have hook clasps along the back like a standard bra. They are often padded or feature underwires.
Front Zip
These sports bras have a zipper in the front of the bra. They are usually encapsulation bras with built-in cups and are easier to take on and off if you have a larger bust.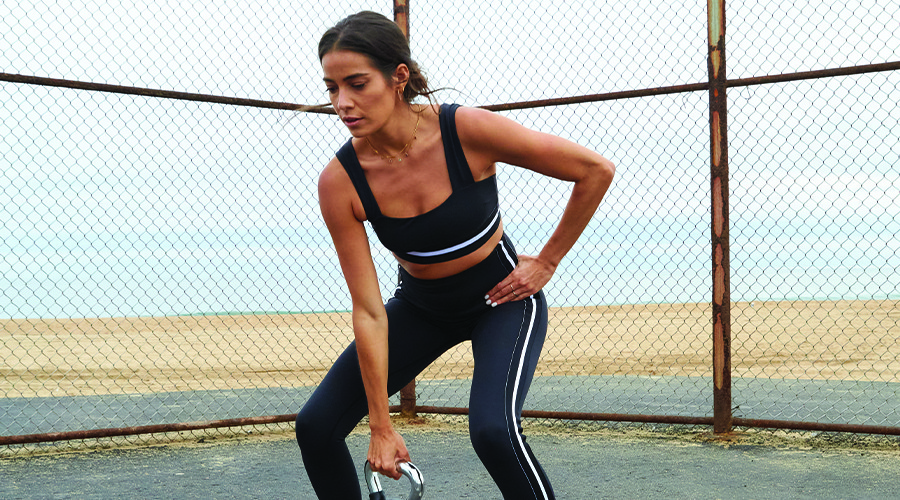 Sports Bra Features - The Breakdown
Padded Sports Bra
Pads in sports bras provide breast support to maximize stability and minimize discomfort. Excessive movement can damage ligaments or lead to stretching over time. The good news is that padded sports bras provide the additional support needed to prevent this.
Moisture Wicking Fabrics
Wicking technology moves sweat away from your body to the outside of the fabric where it evaporates. This minimizes skin irritation and visible sweat patches. Moisture wicking fabrics including nylon and polyester, are ideal for high intensity exercise or prolonged physical activity.
For more information, check out our article on Moisture Wicking Fabric Benefits.
Underwire
An underwire is a piece of wire that runs under the cups of a bra to shape and lift the breasts. It provides support and prevents damage to ligaments. Made from metal, resin or plastic, underwires are great for supporting larger busts.
Minimal Seams and Stitching
Sports bras with minimal seams and stitching allow your breasts to be supported rather than restricted. They reduce chafing and are less visible under clothing. These bras are designed to hug your body smoothly and usually come without underwires.
Related Guides
How To Care for Your Workout Clothes
How To Choose Compression Rashguards
How To Choose Compression Clothes
How To Choose Compression Shorts