How To Choose the Right Workout Shorts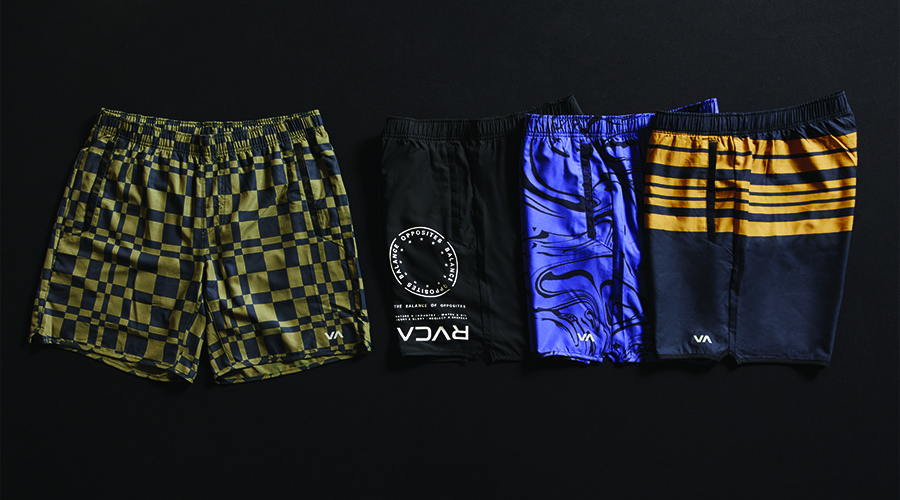 Looking for high performance workout shorts? Check out our expert guide on athletic shorts and learn about Yoggers.
What To Look for in Athletic Shorts
When looking for athletic shorts, you want to find a pair that are comfortable, keep you dry and sweat-free, and give you a full range of motion. The perfect workout shorts will vary depending on the activity, so it's important to understand all of the options available.
There's no one-size-fits-all when it comes to gym shorts, so below we'll break down the important features of workout shorts, from materials and technology, to fit and features.
Natural vs. Synthetic Gym Shorts Materials
Workout shorts come in a range of synthetic and natural materials, each with their own fabric benefits.
Spandex: A synthetic or man-made material, spandex is known for being stretchy and flexible. Spandex is often found in compression shorts which are meant to stabilize your muscles to reduce injury, however, it is worth noting that it's not as breathable as other materials.
Bamboo: Bamboo is a natural material made from the bamboo plant. It's known for being moisture-wicking, which keeps you cool and dry. It's also soft, breathable, odor-resistant and eco-conscious.
Mesh: Mesh is a synthetic material usually made from polyester or nylon. It's known for its net-like design that allows sweat to evaporate while maintaining strength and flexibility, although it can retain odors if not properly cared for. Read our article on How To Care for Your Workout Clothes for more info.
Polyester: Polyester is another synthetic material known for being lightweight, wrinkle resistant and moisture-wicking. It's great for sweat-intensive exercises that could benefit from a breathable fabric.
Polypropylene: Polypropylene is a synthetic material known for being durable and water resistant. It's great for outdoor activities and helps keep you warm.
Nylon: Nylon is a strong and durable synthetic material known for its unique stretch. It's also soft to the touch and mildew resistant, and should be washed regularly to avoid odors.
Cotton: Cotton is a common material made from the cotton plant. It's known for its natural breathability, although it does not wick moisture like other performance fabrics, it can also take a long time to dry, making it less practical for sweaty activities or warmer climates.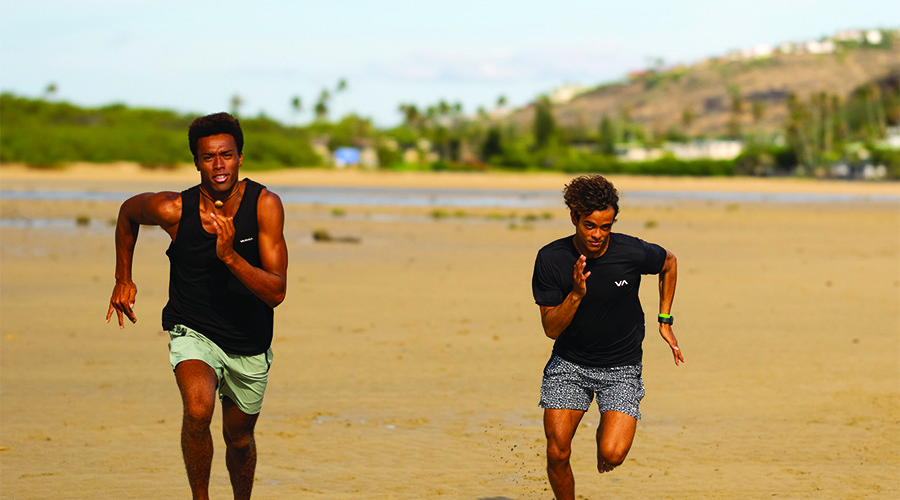 Sport Shorts Technologies
Workout clothing is equipped with a variety of technologies that are designed to make us feel as comfortable as possible.
Moisture-wicking fabrics wick or move sweat off your skin to the outer layer of the fabric to be evaporated. Dri-release technology blends synthetic and natural fibers to create fabric with maximum moisture-wicking and drying capabilities. For more information, read our article on Moisture-Wicking Fabrics.
Antimicrobial technology is a treatment applied to a fabric that prohibits mold, mildew and bacteria from thriving. It works on a cellular level to prevent microorganisms from growing on a fabric's surface, which reduces odors and increases a fabric's lifespan.
Water-repellent technology applies a chemical treatment to fabrics to make them water repellent, which isn't fully waterproof, but repels water intrusion. This is ideal for activities that are exposed to a variety of weather or are sweat-intensive.
Ultraviolet (UV) protection limits the sun's radiation from penetrating fabric. Fabric that has a UPF, or Ultraviolet Protection Factor, of 50 prevents 98% of the sun's rays from reaching your skin. Fabrics with a tighter weave offer a higher level of natural protection than sheer fabrics.
How are Athletic Shorts Supposed to Fit?
The fit of workout shorts should vary depending on the activity and support level needed. Certain workouts like cycling require a tighter and shorter fit, while activities like basketball require a longer and looser fit.
The Importance of Length & Outseam
The length and outseam of shorts also play a factor in performance and suit different types of activities. The outseam is measured along the outside of the short from the top of the waistband to the bottom of the leg hem. Workout shorts that are shorter accommodate linear or forward motions, whereas longer workout shorts accommodate activities with a lateral, or side to side, motion.
Outseams can also affect chafing. Shorter outseams on loose-fitting shorts reduce chafing because there is no fabric to chafe against the mid-thigh region, whereas longer outseams on tight-fitting shorts reduce chafing because the fabric stays snug against the skin and doesn't leave room for rubbing.
| | | | |
| --- | --- | --- | --- |
| | Short | Mid | Long |
| Men's Outseam Length | 14" | 15"-18" | 19"+ |
| Women's Inseam Length | 2" | 2.5"-7.5" | 10.5" |
Men's length is typically categorized by outseam and women's by inseam.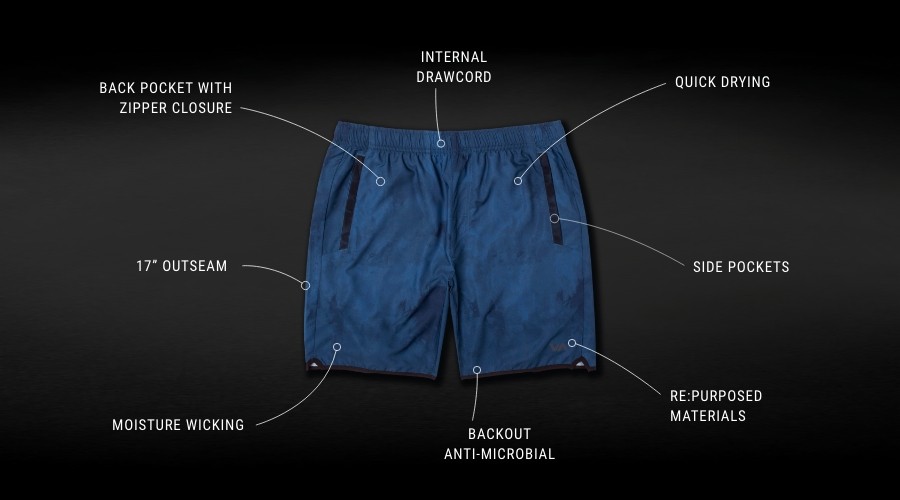 Different Workout Shorts Features
Workout shorts have many features that allow them to be comfortable and practical.
Waists
Another factor that can reduce chafing is how gym shorts fit along the waist. Elastic waist shorts have an elastic or stretch fabric inside the waistband, that on some styles can be secured with drawcords.
Liners
Liners are a built-in layer of moisture-wicking fabric that can prevent chafing. They often come in the form of mesh underwear or a compression short. Some people prefer to forgo a lining and wear their own underwear beneath the shorts.
Pockets
Pockets are another important feature in shorts and can offer convenience in carrying personal items like keys or phones. Pocket designs range from zipper pockets to pouches that are part of a short's liner. Generally, the more compact pockets are, the more practical they are for exercise, leaving less room for items to move around.
Visibility Features
Visibility features are a safety precaution for sports shorts. They can be in the form of bright or neon colors as well as reflective details that make you more visible while working out in low-light or at nighttime.
What are the Different Types of Gym Shorts?
Workout shorts vary in fit, length and material. It's best to select them based on your activity if you want to maximize your performance.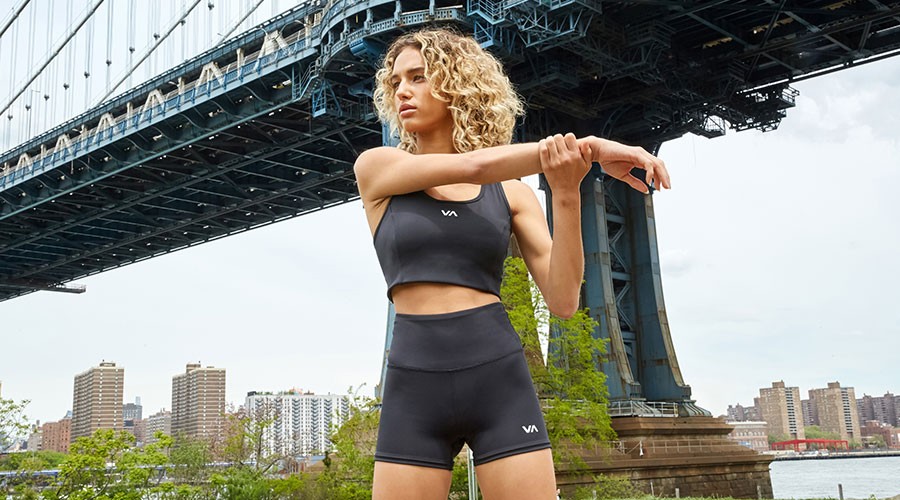 Compression Shorts
Compression shorts are made of mostly spandex, polyester and nylon fabric. Known for their tight fit, they are designed to support your muscles to reduce strains. They also increase blood flow and circulation, which can improve muscle recovery time. Compression shorts are preferred in sports that require aerodynamic clothing, such as cycling. Check out our top picks for compression shorts.
2-in-1 Shorts
As the name implies, these shorts are 2 shorts built into 1. They have built-in compression shorts to replace inner lining, coupled with a running short on top. Together, the two layers provide increased weather protection, reduce chafing, wick moisture and give added support. 2-in-1 shorts are ideal for activities like running and circuits.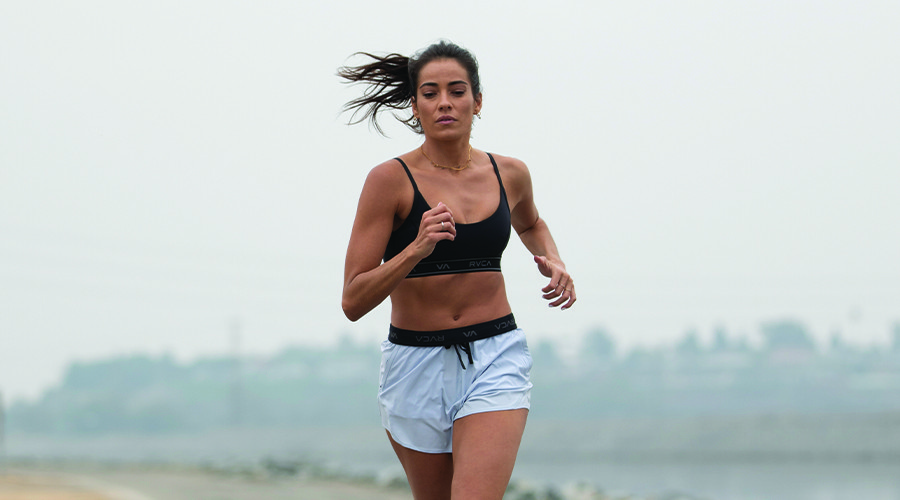 Running Shorts
Running shorts are specifically designed for runners and are usually made from a synthetic material like lightweight polyester that accommodates large forward strides.
V-notch shorts, or split running shorts, have a loose and short fit and are popular for running. They are known for an inverted V-shape slot along the hem which provides greater flexibility for forward strides.
Yoga Shorts
Yoga shorts are lightweight and moisture-wicking with compression to improve circulation and stability. They are typically made from stretch, synthetic or natural fabrics that allow for total flexibility. Yoga shorts are used for a variety of workouts, from yoga to pilates.
Yogger Shorts
Yogger shorts are a high-performance, all-purpose workout short engineered with flexibility, breathability and efficiency. Not only are they a comfortable and stylish go-to athletic short, they are also practical for a wide range of activities, like running, weightlifting, HIIT, MMA and Brazilian Jiu-Jitsu.
Now that we've covered the different types of running shorts, fits and features, you're one step closer to choosing a short that maximizes your workout.
Related Guides
How To Care for Your Workout Clothes
How To Choose Compression Rashguards
How To Choose Compression Clothes
How To Choose Compression Shorts